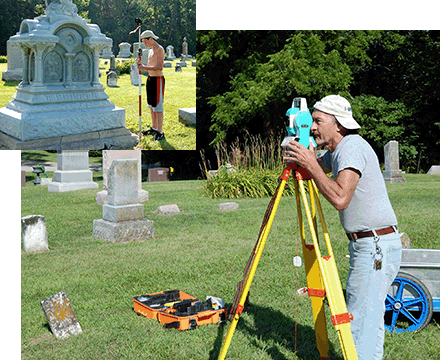 Site Survey by HAR Technicians E. Humberger and A.J. Green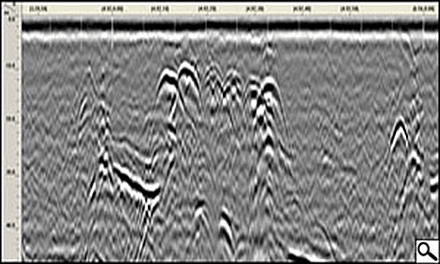 GPR Radargram of Burials in a Cemetery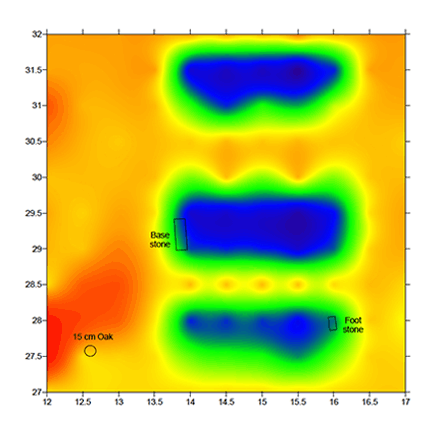 EMC Image Map of Poorly Marked Burials
Cemetery Survey
HAR personnel have been involved in (208) intensive cemetery investigations, as well as, hundreds of lesser studies involving 19th and early 20th century cemetery properties. Our consultants and technicians utilize proprietary survey and mapping techniques in conjunction with electromagnetic subsurface imaging methods to accurately map cemetery properties. We have the technical expertise, gained over nearly two decades of practical experience, to assist in the management of damaged or less well defined, poorly documented cemetery properties. No project should be considered too large or small.
Site Mapping & Inventory
Accurate cemetery site maps and inventories are essential in managing a cemetery property. Cemetery stewards need up to date and accurate information to pass on to future generations who will inherit the responsibility of perpetual site management. With precision survey equipment and Computer Aided Design (CAD) software, HAR technicians create accurate site maps depicting all visible surface features of a cemetery property. The site map can be used either to augment and confirm existing burial records, or the grave marker reading and burial data can be created as a function of the data collection. The result is an accurate representation of the current cemetery conditions and interment records both graphically (maps), and in spreadsheet data format. Many older cemetery records are inaccurate and or incomplete. HAR can assist in correcting these issues.
Subsurface Imaging
It is often questionable whether vacant areas in older cemetery properties are really vacant? Over time, cemetery surface features become altered, including many grave markers and monuments that disintegrate, become buried and that have been moved or destroyed leaving gaps and enigmatic open areas on the premises.
HAR has empirically developed cemetery survey procedures that utilize multiple geophysical measurement techniques, magnetometry, VLF metal detection, EMC detection and Ground Penetrating Radar (GPR) to identify and pinpoint buried features. Unmarked graves identified in this manner may be added to site maps and inventories; vacant areas may be staked out in standard burial plots for sale or future use.
Whether your needs are in accurate cemetery site mapping and documentation only; or in comprehensive survey and subsurface study of a cemetery property, HAR can help.
Please feel free to utilize our Contact page to find out how HAR can be of assistance with cemetery survey and documentation.